Architecture tour
Starting point: Vitra Design Museum &nbsp
Charles-Eames-Str. 2
79576
Weil am Rhein
Tickets from €27.00
Concessions available
Event organiser: Vitra Design Stiftung gGmbH, Charles-Eames-Straße 2, 79576 Weil am Rhein, Deutschland
Information on concessions
* Take advantage of our package deal
Including: guided architecture tour, admission current exhibition Vitra Design Museum & Vitra Schaudepot

While changing the exhibition at the Vitra Design Museum (twice per year) the combination ticket contains: architecture tour + admission Vitra Schaudepot

** Reduced prices: young people from age 12, students, seniors, disabled persons, groups of more than 10 people: info@design-museum.de
Event info
The Vitra Campus is a magnet for design and architecture enthusiasts. Few other places in the world can boast such a large number of contemporary architectural icons. It was here that Zaha Hadid created her very first structure in 1993 – the Fire Station – and American architect Frank Gehry constructed his first building in Europe in 1989. Designed by Herzog & de Meuron, the VitraHaus of 2010 on the north side of the campus is an eye-catcher, even from afar. Alongside the Vitra Schaudepot, also designed by Herzog & de Meuron, a second public area was created on the campus in 2016. Then, there are other works like the Conference Pavilion by Tadao Ando, a geodesic dome based on the designs of Richard Buckminster Fuller, a petrol station by Jean Prouvé, factory buildings by Nicholas Grimshaw, Álvaro Siza and SANAA and the Vitra Slide Tower by the artist Carsten Höller. Daily guided tours (duration: 2 hours) explain the backgrounds of architects and buildings alike.

The VitraHaus (2010), designed by Herzog & de Meuron, can be viewed from the outside during the tour, and its interior can be explored independently. The Vitra Campus comprises a public and a private area. In the public space, you will find the Vitra Design Museum, the VitraHaus and the Vitra Silde Tower on the Álvaro-Siza-Promenade. The private area, where the production facilities are located, can only be accessed as part of an architecture tour. Please note that only guides of the Vitra Design Museum are allowed to conduct guided tours through the exhibition and on the Vitra Campus.
Location
Vitra Design Museum
Charles-Eames-Straße 2
79576 Weil am Rhein
Germany
Plan route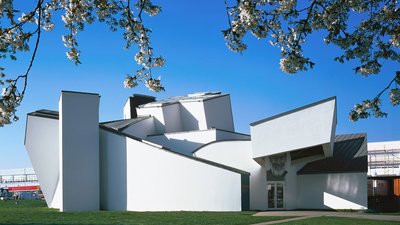 Das Vitra Design Museum in Weil am Rhein zählt zu den führenden Designmuseen weltweit. Es erforscht und vermittelt die Geschichte und Gegenwart des Designs und setzt diese in Beziehung zu Architektur, Kunst und Alltagskultur. Im Hauptgebäude von Frank Gehry präsentiert das Museum jährlich zwei große Wechselausstellungen, darunter große Einzelausstellungen wie »An Eames Celebration« (2017) zum Designerpaar Charles und Ray Eames, »Alexander Girard. A Designer´s Universe« (2016) oder Alvar Aalto (2014) sowie vielfältige Themenausstellungen wie »Hello, Robot. Design zwischen Mensch und Maschine« (2017) oder »Das Bauhaus #allesistdesign« (2015).Parallel dazu werden in der Vitra Design Museum Gallery temporäre Ausstellungen gezeigt, die einen aktuellen und oftmals experimentellen Ansatz verfolgen.

Das Vitra Schaudepot von Herzog & de Meuron präsentiert circa 400 Schlüsselobjekte seiner fast 20.000 Objekte umfassenden Sammlung und zählt damit zu den weltweit größten Dauerausstellungen und Forschungsstätten zum modernen Möbeldesign. Darüber hinaus werden im Vitra Schaudepot jährlich drei bis vier sammlungsbezogene Wechselausstellungen gezeigt. Viele Ausstellungen entstehen in Zusammenarbeit mit bekannten Designern und befassen sich mit zeitgenössischen Themen wie Zukunftstechnologien, Nachhaltigkeit, Mobilität oder sozialer Verantwortung. Andere richten ihren Fokus auf historische Themen oder zeigen das Gesamtwerk bedeutender Gestaltungspersönlichkeiten.
Grundlage der Arbeit des Vitra Design Museums ist eine Sammlung, die neben Schlüsselstücken der Designgeschichte auch mehrere bedeutende Nachlässe umfasst. Die Museumsbibliothek und das Dokumentenarchiv stehen Forschern auf Anfrage zur Verfügung. Die Ausstellungen des Museums sind als Wanderausstellungen konzipiert und werden weltweit präsentiert. Auf dem Vitra Campus werden sie um ein vielfältiges Begleitprogramm aus Events, Führungen und Workshops ergänzt.

Das Vitra Design Museum ist auf dem Vitra Campus in Weil am Rhein beheimatet. Vom Bahnhof, der von Zug und Tram angefahren wird, können Besucher den ausgeschilderten Fußweg innerhalb von 15 Minuten zurücklegen. Auch eine Busverbindung besteht von der Tramhaltestelle direkt an den Campus. Autofahrer finden auf dem Besucherparkplatz ausreichend Abstellplätze.