hr-Sinfoniekonzert | Daphnis et Chloé
Opernplatz 1
60313
Frankfurt am Main
Tickets from €17.00
Concessions available
Event organiser: Hessischer Rundfunk, Bertramstr. 8, 60320 Frankfurt am Main, Deutschland
Event info
DAPHNIS ET CHLOÉ
Ballets Russes

GAUTIER CAPUÇON | Violoncello
ALAIN ALTINOGLU | Dirigent

Pascal Dusapin | Uncut – Solo for Orchestra No. 7
Camille Saint-Saëns | 1. Cellokonzert
Nikolaj Rimskij-Korsakow | Der goldene Hahn – Suite
Maurice Ravel | Daphnis et Chloé – Suite Nr. 2

Die prächtig-virtuose, exotisch-farbige Partitur
der Opern-Suite »Der goldene Hahn« von
Nikolaj Rimskij-Korsakow lässt alle Fantasien
zu, sie ist so pittoresk wie sinnlich. Und auch
bei »Daphnis et Chloé«, der Ballettmusik von
Maurice Ravel, taucht der Zuhörer tief ein in
eine eigene Klangwelt, die Welt von Pan und
der Nymphe Syrinx. Rausch und Zauber, Esprit
und Eleganz liegen ganz nahe beieinander an
diesem französischen Abend, an dem Star-
Cellist Gautier Capuçon noch mit dem 1. Cellokonzert
von Camille Saint-Saëns aufwarten
wird. Präsentiert wird das Programm vom designierten
neuen Chefdirigenten des hr-Sinfonieorchesters Alain Altinoglu

___________

The wonderfully virtuoso and exotically colourful
score of the opera suite »The Golden Cockerel«
by Nikolai Rimsky-Korsakov lets the imagination
run wild; it is equally picturesque and sensual.
And when you listen to the ballet music »Daphnis
et Chloé« by Maurice Ravel, you will also plunge
deep into your own world of sound, the worlds of
Pan and the nymph Syrinx. Ecstasy and magic,
esprit and elegance stand close together on this
French evening where the star cellist Gautier
Capuçon is also performing Camille Saint-Saëns'
Cello Concerto. The programme will be presented by the
designated new Music Director of the Frankfurt Radio Symphony, Alain Altinoglu.
Location
Alte Oper
Opernplatz 1
60313 Frankfurt am Main
Germany
Plan route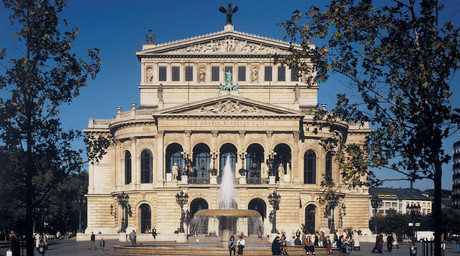 Mitten in der Frankfurter Innenstadt steht die "Alte Oper Frankfurt". Sie lockt mit Konzerten und Veranstaltungen der Spitzenklasse. Künstler wie Martha Argerich, Alfred Brendel oder Hélène Grimaud, sowie die "Berliner Philharmoniker" sind hier schon aufgetreten.

Seit 1880 bietet die "Alte Oper Frankfurt" Raum für Musik und Feste. Daran konnten auch "Dynamit-Rudi´s" Pläne, das Gebäude in die Luft zu sprengen, nichts ändern. Und seit der Eröffnung zieht die Oper prominente Künstler und Gäste an. Kaiser Wilhelm der 1. kam zur Eröffnung zu Besuch und Carl Orffs "Carmina Burana" wurde hier 1937 uraufgeführt. Und so hat sich zwischen den Bürotürmen ein wichtiges Stück Stadtgeschichte gehalten. Dem Schriftzug über dem Eingang "Dem Wahren, Schönen, Guten" entsprechend, ist die "Alte Oper Frankfurt" ein Garant für ein tolles Programm und unvergessliche Konzertabende. Der große Saal bietet mit 2500 Sitzplätzen genug Platz für große Konzerte, der "Mozartsaal" schafft mit 700 Plätzen eine intimere Atmosphäre.

Die "Alte Oper Frankfurt" ist eine feste Kulturinstitution. Sie genießt weit über das Rhein-Main-Gebiet einen sehr guten Ruf. Hier wird Kunst perfektioniert.