Kammermusik | Kegelstatt-Trio
Mitglieder hr-Sinfonieorchester &nbsp
Bertramstraße 8
60320
Frankfurt am Main
Tickets from €19.00
Concessions available
Event organiser: Hessischer Rundfunk, Bertramstr. 8, 60320 Frankfurt am Main, Deutschland
Information on concessions
Ermäßigungen gelten für Schüler, Studierende (bis 27 Jahre), Auszubildende und Menschen mit Behinderung ab 80% GdB. Karten für Menschen mit Behinderung, Rollstuhlfahrer und Begleitpersonen bitte über 069 155 2000 buchen. Nachweise sind beim Einlass vorzuzeigen.

RMV-Kombiticket ist im Ticketpreis enthalten (außer bei Freikarten).
Event info
KEGELSTATT-TRIO

MAGDALENA FAUST | Klarinette
MAXIMILIAN JUNGHANNS, FANNY PUJOL | Violine
GABRIEL TAMAYO | Viola / PETER-PHILIPP STAEMMLER | Violoncello
ISABEL VON BERNSTORFF | Klavier

Wolfgang Amadeus Mozart | Klarinettentrio Es-Dur KV 498 (»Kegelstatt-Trio«)
Krzysztof Penderecki | Klarinettenquartett
Johannes Brahms | Klavierquintett f-Moll op. 34

Leidenschaftliche Dramatik und kontemplative
Meditation. Einst beim Billardspiel entstanden,
hält Mozarts Klarinettentrio einige seiner
köstlichsten Melodien bereit. Brahms' Klavierquintett
hingegen ist ein packendes Werk, das
im Ton der Tragödie verläuft. Dazwischen steht
ebenfalls markant das Klarinettenquartett des
eindrucksvollen Zeitgenossen Krzysztof Penderecki.

___________

Passionate drama and contemplative meditation.
Composed while playing skittles, Mozart's Clarinet
Trio contains some of his most delightful melodies.
Brahms' Piano Quintet, on the other hand,
is a gripping work that progresses with a sense
of tragedy. And between these two we have the
equally striking Clarinet Quartet by the impressive
contemporary composer Krzysztof Penderecki.
Location
Großer Sendesaal des Hessischen Rundfunks
Bertramstraße 8
60320 Frankfurt am Main
Germany
Plan route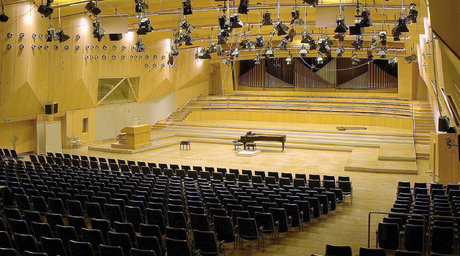 Von Klassik- und Jazzkonzerten, Kinderveranstaltungen, Kabarett, Previews, Lesungen und literarischen Gesprächen bis hin zum Deutschen Jazzfestival, Fastnachtssitzungen oder Fernsehübertragungen bietet der Sendesaal des Hessischen Rundfunks mit seinem Foyer Raum für die unterschiedlichsten Veranstaltungen. Die besondere Qualität des 1954 eingeweihten und 1987/88 komplett umgebauten hr-Sendesaals, der mit hellem Naturholz getäfelt ist, liegt nicht nur in seiner hervorragenden Akustik, sondern auch in seiner Multifunktionalität: Er ist Konzertsaal, Proberaum und modernes Tonstudio in einem, hier arbeitet das hr-Sinfonieorchester und gibt zahlreiche Konzerte, hier werden aber auch regelmäßig CD-Produktionen realisiert. An seiner Stirnseite verfügt der hr-Sendesaal über eine Konzert-Orgel. Der Publikumsbereich bietet bis zu 840 Sitzplätze.