Abgesagt
Bisheriges Datum:
ROSS THE BOSS - European Tour of Fire 2020
ROSS THE BOSS &nbsp
Hauptstraße 200
44892
Bochum
Event organiser:
Libby Rockt! Event & Konzerte UG, Hauptstraße 200, 44892 Bochum, Deutschland
Die Veranstaltung wurde verlegt.
Event info
ROSS THE BOSS announces European Tour of Fire 2020

After the successful release of ´By Blood Sworn´ in 2018, a full European tour and glorious festival shows all over Europe, the ROSS THE BOSS band returns to Europe in April 2020 to promote their upcoming new album on AFM Records:

'We The Ross the Boss Band are really excited to announce this monster Euro tour. After working so hard this year on our new record Born of Fire, we are ready to unleash it. But dont worry, we are still playing all the classic tunes that WE ALL LOVE. Do not miss these shows. It's an amazing package of unbridled metallic and RnR power!!!'

Ross and his band are teaming up with the Swiss all girl metal outfit BURNING WITCHES and the UK Rock N´ Metal psychos ASOMVEL.

The Burning Witches will release their new album in March on Nuclear Blast Records:

'Those are exciting news for us - of course we are big MANOWAR fans! So when we got asked to join ROSS THE BOSS on this European tour, we were thrilled & flabbergasted! It is a big honor to share the stage with such great & experienced musicians! This is a kick ass billing for Heavy Metal maniacs – we hope to see many WITCHES disciples out there next April!'

And Ralph from Asomvel comments:
"If you think ASOMVEL is excited to be part of this Ross the Boss tour, come around & check our underwear!"

METAL HAMMER, Guitar, Metal.de, Tough Magazine, Kalle Rock & Dragon Productions present:

ROSS THE BOSS
Tour of Fire - Europe 2020

Special Guests: BURNING WITCHES, ASOMVEL

01.04.2020 DE - Bochum, Matrix
02.04.2020 DE - Siegburg, Kubana
03.04.2020 DE - Leipzig, Hellraiser
04.04.2020 DE - Eisenhüttenstadt, Dock 18
05.04.2020 DE - Hamburg, Knust (without Asomvel)
06.04.2020 SE - Alvesta, Bullet Club
07.04.2020 NO - Oslo, John Dee
08.04.2020 NO - Haugesund, Flytten
10.04.2020 DK - Kolding, Godset
11.04.2020 DE - Flensburg, Roxy
12.04.2020 NL - Nijverdal, Tattoofest Easter
13.04.2020 NL - Tilburg, Little Devil
15.04.2020 NL - Rotterdam, Baroeg
16.04.2020 DE - Oldenburg, Amadeus
17.04.2020 DE - Cham, L.A. Cham
18.04.2020 DE - Mannheim, Delta METAL Meeting
19.04.2020 DE - Würzburg, Posthalle
20.04.2020 IT - Milan, Legend Club
21.04.2020 CH - Pratteln, Z7
23.04.2020 ES - Barcelona, Bóveda
24.04.2020 ES - Valencia, Paberse Club
25.04.2020 ES - Pozal de Gallinas, Galia Metal Fest
26.04.2020 PT - Lisbon, RCA Club

Booking: www.dragon-productions.com
Location
Matrix Bochum
Hauptstraße 200
44892 Bochum
Germany
Plan route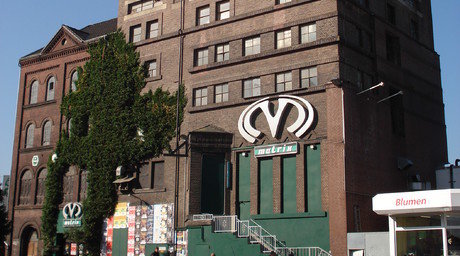 Sie ist skurril, mysteriös, verwinkelt und vor allem riesig: Die Matrix in Bochum ist eine der größten Diskotheken des Ruhrgebiets und hat sich bereits weit über die Grenzen der Stadt hinaus einen Namen gemacht.

Die Matrix befindet sich in einem elfstöckigen ehemaligen Brauereigebäude, das bereits 1806 erbaut wurde. Ab dem Ende der 1970er Jahre wird der Gebäudekomplex als Diskothek genutzt und entwickelte sich unter dem Namen "Rockpalast" zu einer Pilgerstätte für Anhänger der Metal- Szene. Seitdem der Laden im Jahr 2000 Besitzer, Konzept und Namen wechselte, erweiterte sich nicht nur das musikalische Angebot, sondern auch der Personenkreis, der nun die "Matrix" besuchte. Aus einem Labyrinth aus mehreren Etagen und insgesamt 4 Areas mit jeweils unterschiedlichen musikalischen Schwerpunkten, dringen die verschiedensten Klänge. Feiern kann man hier sowohl zu Rock, Pop aber auch zu Dance- und Chartmusik. Das Aushängeschild des Clubs ist allerdings nach wie vor das erstklassige Konzertangebot. Hier spielten bereits einige der bekanntesten nationalen und internationalen Rockbands wie beispielsweise Slipknot, Bullet for my Valentine, Boss Hoss, Danko Jones, Slayer oder Europe.

Erleben Sie mitreißende Konzerte, Feiern Sie durch die Nacht – Die Matrix wird Sie so schnell nicht mehr loslassen.